Home >> Seal >>O-Rings >> Kalrez O-Rings >> KalrezCase Studies 
Standing up to over 1,800 different chemicals
From aerospace, transportation and chemical processing to chip manufacturing and oil and gas applications, DuPont™ Kalrez® is engineered to provide more stability, more resistance and more effective sealing. These case studies highlight the superior performance Kalrez® parts.
Critical Seals in HDPCVD Processes
The Challenge – As the semiconductor industry continues to invest in 300 mm wafer fabrication, the spotlight is on process improvement and the greater demands this technology makes on…
Kalrez® KVSP™ valve stem packing saves 56.000 £
BP Chemicals – Following trials of alternative valve stem packing materials, BP Chemicals Limited significantly reduced unscheduled reactor shutdowns and saved an estimated 56.000 £ annually for each reactor control valve…
Kalrez® O-rings for Hydrogen Sulfide Removal
The Challenge – Amine units operate under harsh chemical environments. H2S for example, needs to be handled with care and can cause embrittlement of metal equipment. These processes also operate at high…
Kalrez® Spectrum™ 6375 O-rings for PTFE replacement
The Challenge – The filling line at Dow AgroSciences plant in Drusenheim, France – a global leader in pest management and biotechnology products – processes aggressive solvents, surfactants…
Kalrez® Spectrum™ 7275 Double Seal Life in Chlorine Dioxide Service
Chlorine dioxide is a strong oxidizing gas that finds many uses as bleaching agent and disinfectant, being a more effective and safer biocide than other sources of chlorine. Most of the production…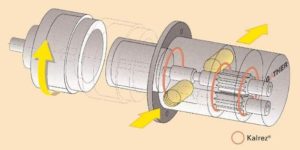 Metal O-rings Replacement
The Challenge – Gather Industrie GmbH, Mettmann, Germany, was facing metal seal deformation problems at high temperatures in gear pumps designed to operate in temperature up to 300 °C & pressure of 100 bar, which was causing leakage…
Natural Gas Sampling and Delivery
The Challenge – Transporting natural gas from well to consumer is a delivery challenge faced by industrialized nations throughout the world. In the United States alone, well over 270,000 miles…
O-rings for Gas Sweetening Valves
Gas sweetening is a common unit process used in refineries, petrochemical plants, natural gas processing plants and other industries. The glycol-based solvent chemistry together with Rapid Gas Decompression…
O-rings in Pressurized Water Reactor
One of the many uses of boiler feed pumps is as part of a Pressurized Water Reactor (PWR) system in nuclear power plants. In a PWR, the primary coolant (superheated water) is pumped under high pressure…

Kalrez® Spectrum™ 6380 Offers Amine Resistance to Improve MTBR
The Challenge – A.W. Chesterton was challenged to improve the mean time between repairs (MTBR) in a mechanical seal for a hot, primary amine service at a major chemical facility…
Pharmaceutical Seals for CIP and SIP
The Challenge –  Pumps used in pharmaceutical, biotechnological and sterile processes are subject to some of the highest standards and safety requirements worldwide. In addition to ease…
Kalrez® Parts Extend Service Life for Process Instrument
The Challenge
– By switching from gasket seals of PTFE to custom gaskets of DuPont™ Kalrez® perfluoroelastomer parts in the sensor head of a process instrument refractometer used by…
Sealing Collaboration Pays Dividends in Chamber Cleaning
The Challenge
– In the very competitive environment of semiconductor chip manufacturing, reduced cost per wafer is a top priority. DuPont successfully collaborated with Spansion…
Kalrez® Spectrum™ 7075 for Clamping Systems
The Challenge – A leading German manufacturer of heavy duty clamping systems for…
---
---
Standard Kalrez® O-Ring Compounds
Specialty Kalrez® O-Ring Compounds
Kalrez® W240 perfluoroelastomer parts are a black product for photovoltaic wet manufacturing processes requiring a wide range of chemical resistance. W240 provides an excellent combination of properties (resistance to acids/bases) and is the product of choice for wet processes as an upgrade from standard elastomers, i.e., FKM, NBR, EPDM, etc.
Kalrez® is a registered trademark of E.I. du Pont de Nemours and Company or its affiliates