Home >> Shaft Seals >> High Pressure PTFE Seals
High Pressure PTFE Seals
Excellent for extreme temperatures, high pressures, high speeds and corrosive liquids & gases. The design utilizes a PTFE sealing lip characterized by low friction, lower level of wear and requires no metallic spring. The metal casing is stainless steel. Equivalent to Garlock P.S. and Elring styles.
Seals are also available in multi-lip designs.
Applications: The characteristics of these seals have lead to their use in a range of industries and applications including: Pumps, Agitators, Blowers, Rotating Compressors, Mixers, etc.
Lip Styles: These high pressure seals are available in O.D. sizes from 30mm (1.2″) up to 530mm (20.9″). The design can accommodate surface speeds up to 45 m/s (147.6 ft/s) and temperatures ranging from -90°C to 250°C (130°F to 482°F).
HP PTFE Profiles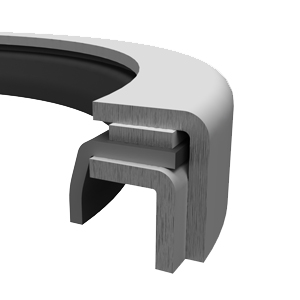 Size Range (O.D.): 30mm to 530mm
Pressure: up to 5 bar
Vacuum: 0.1 torr.
Dimensions: A= 0.5mm B=6mm C=7mm
Metal Parts: Stainless steel
Sealing Elements: Black or White PTFE
Captive Elastomer: Viton (up to 250°C)
Size Range (O.D.): 30mm to 530mm
Pressure: up to 10 bar
Vacuum: 0.1 torr.
Dimensions: A= 0.25mm B=6mm C=7mm
Metal Parts: Stainless steel
Sealing Elements: Black or White PTFE
Captive Elastomer: Viton (up to 250°C)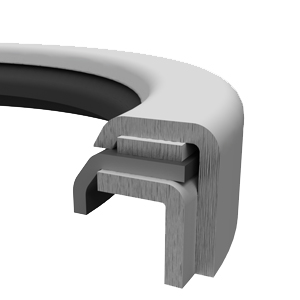 Size Range (O.D.): 46mm to 530mm
Pressure: up to 25 bar
Vacuum: 0.1 torr.
Dimensions: A= 1.5mm B=6mm C=8mm
Metal Parts: Stainless steel
Sealing Elements: Black or White PTFE
Captive Elastomer: Viton (up to 250°C)