Home >> Shaft Seals >> Oil Seals >> Construction of DMR Seals
The Construction of DMR™ Shaft Seals
Rotary shaft seals play a key role in extending the operating life of bearing systems and reducing the overall costs of maintaining these systems.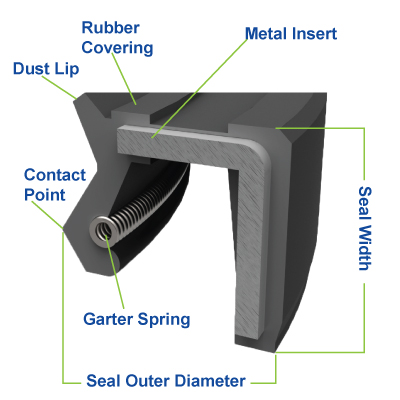 The primary function of a rotary shaft seal is to retain bearing system lubricants therefore allowing the bearings to operate in optimal levels of lubrication.
The secondary function of a rotary shaft seal is to exclude contaminants from the system, contaminants that can both damage bearings and break down the effectiveness of lubricants.
Daemar's Online catalogue provides a listing of standard rotary shaft seal styles and sizes.
Accommodating shafts ranging from 1/4" to 40". The design guide offers assistance in selecting the appropriate style and material of seal for your particular operating environment.
If heat or chemical attack are a concern we offer Viton®, and polyurethane materials as well as the standard silicones and nitriles. Additionally, design parameters for shaft and bore configurations are provided.
 Case Material

Spring Materials

| Case Material | SAE | Application |
| --- | --- | --- |
| Carbon Steel | 1008-1010 | General Purpose |
| Stainless Steel | 302/304 | Corrosive Environments |

| Spring Material   | SAE | Application |
| --- | --- | --- |
| Carbon Spring Steel | 1070-1090 | General Purpose |
| Stainless Steel | 302/304 | Corrosive Environments |