Home >> Blog >> Maximizing Equipment Performance in the Semiconductor Industry: Turcon® Varilip® PDR
Maximizing Equipment Performance in the Semiconductor Industry: Turcon® Varilip® PDR
In the fast-paced world of technology, the semiconductor industry is constantly pushing the boundaries of what is possible. However, for these advancements to be realized, precise and reliable sealing solutions are required. Trelleborg Seals offers a range of rotary seals specifically designed to meet the demanding requirements of the semiconductor industry, and the newest addition is Turcon® Varilip® PDR.
One of the primary features of Trelleborg's Turcon® Varilip® PDR (Performance, Durability, Reliability) is their ability to operate at
high speeds and under demanding conditions. It is achieved using high-performance materials such as PTFE which are mechanically retained in a precision-machined metal body and are resistant to chemicals, high temperatures, and aggressive media. Additionally, the seals are designed to provide low-friction and stick-slip-free running, which helps to reduce temperature generation, permit higher peripheral speeds and lower power consumption.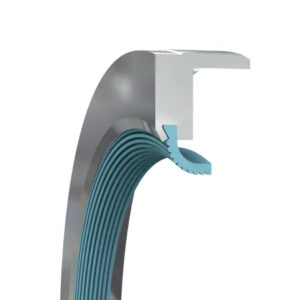 .
Tests show that Turcon® Varilip® PDR requires only around 50 percent of the torque of a radial oil seal when running in Fomblin® oil, commonly used in semiconductor vacuum pumps. It results in long service life, with a maximized mean time between planned maintenance and greater productivity.
Benefits of Turcon® Varilip® PDR seals include:
Low friction to facilitate reduced power loss and friction-induced heat
Unique self-lubricating hydrodynamic feature to further reduce friction
Advanced geometries engineered to give excellent performance in almost every high-speed rotary situation
Multiple lip configurations to address most sealing needs
Material compatible with virtually all media
High-speed capability up to 100 meters per second / 19,680 feet per minute
Wide operating temperature range from -60 °C to +200 °C / -76 °F to 392 °F
Options available for dry-running applications and soft shafts
Unlimited shelf life with no special storage requirements
In conclusion, Trelleborg Turcon® Varilip® PDR is a must-have for the semiconductor industry. Its unique design, excellent performance, and high resistance to demanding conditions make it the perfect solution for any application that requires a high-performance seal. They are a perfect fit for design engineers looking for reliable, precise and long-lasting solutions for their equipment. Learn more about Trelleborg Seals' Varilip® PDR and other rotary seals.