Home >> Shaft Seals >> JM Clipper Seals >> JM Clipper Housing Design
JM Clipper Housing Design
Proper housing (bore) design allows the JM Clipper seal to optimally perform in any given application.  The seals ability to seat correctly and remain in place during operation depends on: housing material, surface hardness, surface finish and housing tolerance.  Ease of installation is effected by factors such as: lead in chamfer, surface hardness of surface finish.  For additional assistance with designing a housing for JM Clipper seals please contact our technical team.
Housing Recommendations
Material —
The most commonly used materials for seal housings are steel and cast iron. Care must be taken when softer housing materials such as aluminum, bronze or plastic are used.
Housing Finish —
A finish range of 40 to 100 μin Ra (1.0 to 2.5 μm Ra) is recommended. The Clipper seal is more tolerant of housing finishes that are toward the upper limit than metal OD seals.
Housing Profile —
A lead-in chamfer per the following example is highly recommended for all seal housings. The chamfer aligns the seal during installation and helps prevent the seal from cocking. Both corners of the chamfer should be free of burrs and sharp edges to eliminate OD damage during installation.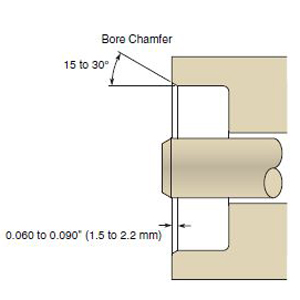 Housing Tolerance —
The diametrical tolerance of the housing for Clipper Oil Seals should be within the limits specified below.
Table 5-3. Housing Tolerance for Inch/Fractional
| Bore Diam. | Diam. Toler. H1 | Diam. Toler. STH1 | Depth Toler. (-0/+) |
| --- | --- | --- | --- |
| Up to 5.9 | ±.002 | ±.002 | +.031 |
| 6.0 – 15.9 | ±.005 | ±.002 | +.062 |
| 16.0 – 30.9 | ±.008 | ±.005 | +.062 |
| Over 31.0 | ±.010 | ±.005 | +.062 |
 Table 5-4. Housing Tolerance for Metric
| Bore Diam. | Diam. Toler. H1 | Diam. Toler. STH1 | Depth Toler. (-0/+) |
| --- | --- | --- | --- |
| Up to 150.0 | ±.05 | ±.05 | +.8 |
| 151 – 403 | ±.13 | ±.05 | +1.5 |
| 404 – 785 | ±.20 | ±.13 | +1.5 |
| Over 786 | ±.25 | ±.13 | +1.5 |